With the completion of the individual games for the entire southern sector of the battle has been modeled at Platoon and Company level at 330 meters per hex.

This game system will also hold the Guinness World Record for Largest Boardgame.

Death Ride Kursk - Sud-Front, Russland - Staff Limited Edition

Is a very special and unique product, offered for those wanting the ultimate in grand tactical gaming on the eastern front.

July 4 2018 marked the 75 th Anniversary of the Battle of Kursk. Grognard Simulations has dedicated a large amount of resources on creating a realistically representative and fully encompassing simulation of the southern salient effort by 4 th Panzer Armee and Armee Detachment Kempf to punch through the determined and well planned Red Army defenses to reach Kursk. Grognard Simulations is proud to offer a special product that is worthy of such an anniversary. The battle itself was very large in scope with millions of men and thousands of tanks and armored fighting vehicles being involved. This offering is very special, and very limited. It will include:

Staff Limited Edition unique series package
A wooden box in the form of an 88mm ammunition crate
3 pockets within the box, one for each DRK game set (XLVIII, IISS, AD Kempf)
A hinged top with hasp for proper and secure stowage
A piece of Red Army memorabilia
A piece of German Army memorabilia
Death Ride Kursk – Gross Deutschland
Death Ride Kursk – 3 rd Panzer
Death Ride Kursk – 11 th Panzer
Death Ride Kursk – XLVIII Enhancement
Death Ride Kursk – Totenkopf
Death Ride Kursk – Leibstandarte
Death Ride Kursk – Das Reich
Death Ride Kursk – IISS Enhancement
Death Ride Kursk – III Panzer Korps
Death Ride Kursk – Korps Raus
Death Ride Kursk – Armee Detachment Kempf Enhancement

Offering price is $2,900. This purchase requires a $700 deposit to hold your copy. You won't have anything else like this in your esteemed game closet. That will make this offering a very rare item. If you want to get in on this spectacular offer you should do so quickly.

Orders are being accepted now. Shipping for this product will be more expensive than usual due to its unique nature and I will take every care to ensure a safe delivery. A $700 deposit must be paid on all orders. This ensures you a copy and helps us get some initial production readiness completed. Full payment on all orders must be made before any product ships.

Those who have played this magnificent series at CSW Expo over the last few years can attest to the excellence that the game system provides in immersing the players into a realistic and stressful, yet fun filled, adventure. Many concepts and rules have been developed with the military decision making process in mind. If you want to experience what that feels like then this series is for you.

Here are a few photos of the game.
The special box:


What's included inside the box:


And a photo of the complete map setup at CSW Expo 2018 (this map was mounted special for the CON and mounting is not included):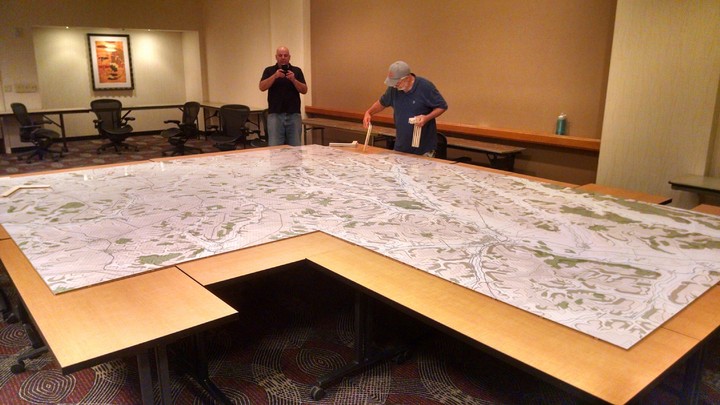 Staff Limited Edition - comes with (in Full Color):

All Map Sections of the Southern Salient Area of Operations


All 8 games and 3 Enhancement Packages from the series


23000+ Unit Counters and Markers


Price is $2,900 + TX Residents 8.25% Tax + Postage and Handling
Please contact me with your questions regarding postage. I now have postage estimates for the US, Japan, and Europe.