This Death Ride game comes with or allows:

Numerous Charts and Tables


Rules Written Based on the Seven Battlefield Operating Systems


Detailed but not Overbearing


Excellent Solitaire Play

V************* Death Ride Normandy *************V


Death Ride Normandy This game is going to cover the entire Normandy campaign from 6 June 1944 up to Cobra. It will be as grand a game as Death Ride Kursk and have all the richness of that game series. This series will be broken down into many smaller games. The Base Game will likely focus on the operation at Pt du Hoc conducted by elements of the 2nd Ranger Battalion. Along with this initial offering will be 2 game focused on beaches. Death Ride Normandy - Omaha Beach and Death Ride Normandy - Gold Beach.

The battle is the most important in US and its Allied partners during World War II.

Here is a small portion of the map done by Robert Weebe. It shows an area of Omaha Beach near St Laurent:
(You can see the intermediate tide lines, an important feature of the landings, some Resistance Nests and their associated arcs of fire)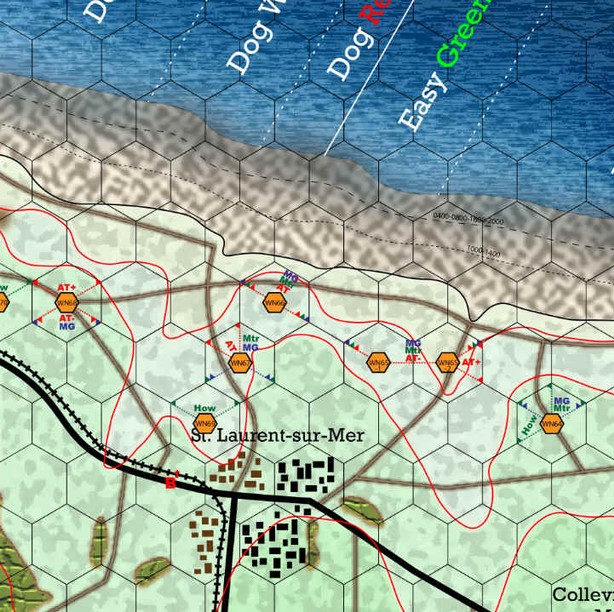 Here are some units you will find in the game (these are primarily the company build up units):








Below is 'E' Company 506th Parachute Infantry Regiment. The platoons, company build up, battalion mortar platoon, and the task organization marker.




Below is '6' Company, 6th Falschirmjager Rgiment. The platoons, company build up, and battalion machine gun platoon.




Some of the 17th SS Panzer Grenadiers of the 7th Company, 37th SS Panzer Grenadier Regiment. The platoons, heavy weapons platoon, and the company build up.



Game Scales are:

Game Turns are 2 hours for regular turns and 40 minutes for invasion turns; a change from most other Death Ride series games


Hex Scale is 330m per Hex


Most units are platoons with the ability to combine into companies



PRICE:
Price is $???? + TX Residents 8.25% Tax + Postage and Handling